Our current auction
Online Elite Bull Sale - Friday, the 15th of December - 15:00 PM
This is a traditional English auction.
Auction is closed.
ONLINE ELITE BULL SALE
Friday, December the 15th - 15:00 hr / 03:00 PM (CET)
Start: Friday, December the 15th on 15:00 / 03:00 PM (Central European Time)
Next lot: After previous lot has closed
Lot duration: Each lot starts with 5 minutes sale time
Popcorn minutes: 3 minutes (When a bid placed in the final 3 minutes the clock will be automatically extended up to 3 minutes again)
Read more about how the sale works here.
SALE UPDATE
The sale updates will be mentioned here and on the individual catalogue pages

NOTE: The August & intermediate indexes are mentioned on the original catalogue pages. The complete, updated December '17 proofs are on the bottom of every catalogue page.

Click here for the complete catalogue
1. PRIMEVAL 5116
- New index: US 12/17 GTPI +2743 - #1 GTPI Sillian son
2. COL DG ELMO
- New index: US 12/17 GTPI +2714 / PTAT +3.24 - Unique PTAT / GTPI combination
3. COL FORTUNATO
- New index: US 12/17 GTPI +2771
4. COL DG KARST
- New index: US 12/17 GTPI +2702 / NM $ 861
5. JK DG CAYDEN
- New index: US 12/17 GTPI +2692 / NM $ 806
6. SJK 4575
- New index:
US 12/17 GTPI +2765
IT 12/17 gPFT +4281
UK 12/17 gPLI +760
Huge testing sire in many different test systems!!
7. COL DG CAMBO
- New index: US 12/17 GTPI +2668 / UDC +3.14
8. DG HS PACO
- New index: US 12/17 GTPI +2718 / NM $ 823
9. COL DG CANDYBARY *Pp
- New index: US 12/17 GTPI +2671 / PTAT +2.41
10. BB DG RAZOR
- New index: US 12/17 GTPI +2680 / +72 lbs PROTEIN
11. DG VEKIS LEXIS
- New index: US 12/17 GTPI +2637 / PTAT +2.89
12. VEELHORST DG MARVELLOUS
- New index: to be followed
13. VEKIS DG DANICK
- New index: 12/17 GTI +2684 / NM $ 778
14. DG TW TELSTAR
- New index: US 12/17 GTPI +2698 / PTAT +2.23
15. JK DG XENOS
- New index: US 12/17 GTPI +2748
16. DG OH BRIDLE
- New index: US 12/17 GTPI +2716 / NM $ 840 / PTAT +2.27
17. VEELHORST DG MARIHUANA
- New index: US 12/17 GTPI +2660 / NM $ 773
18. NORBERT VAN KRAKEHOEVE
-
19. NADAL VAN KRAKEHOEVE
-
20. RHALA RE REGGAE RED *P
- ADDITIONAL LOT
- One of the highest R&W and POLLED bulls in the World!
21. VEELHORST VEKIS OUTLANDER
- ADDITIONAL LOT
Complete index overview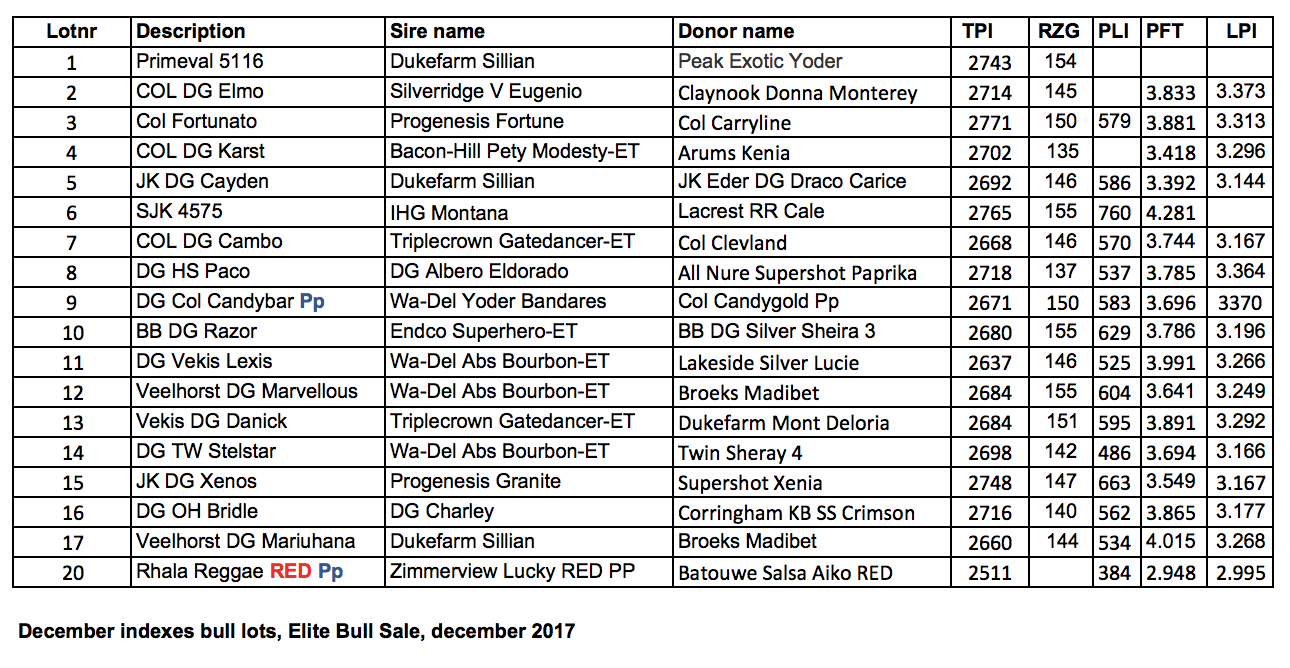 Click here for the complete catalogue